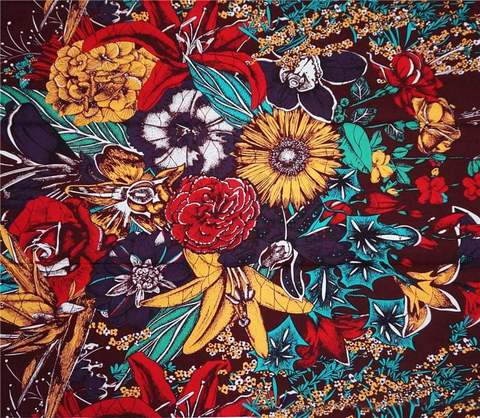 in Blog
Here's the Difference Between African Wax Print and Bogolanfini Fabrics
African textiles are often celebrated in the international fashion world for their dramatic colors, eye-catching designs, and cultural heritage. Oddly enough, one of the most famous fabrics, African wax print didn't even originate in Africa at all. 
African wax print
It's impossible to talk about African wax print without mentioning its predecessor, batik. During the colonization of Indonesia in the early 1800s, the Dutch were introduced to the handmade batik textiles. Javanese locals use the wax-resist dyeing technique of drawing with wax on cotton before dyeing it to produce various colors and designs. The incredible tradition of batik and its global influence has prompted UNESCO to list it as a Masterpiece of Oral and Intangible Heritage of Humanity.
The Dutch industrialized the production process of batik, creating cheaper textiles that were less labor-intensive to produce. The international popularity of wax print, also known as Ankara or Dutch wax print, is the unlikely result of the movement of goods within the Dutch Empire. 
When the batik-inspired fabric failed to sell in Indonesia, factories in the Netherlands exported wax print to their colonies in Africa, where it gained popularity in the late 1800s and is still trendy today. One of the main producers of African wax fabric is still the Dutch-owned Vlisco Group, which continues to design and manufacture the majority of its coveted cotton print in the Netherlands.
A fabric with meaning
Aside from the rich colors, one of the most impressive aspects of African wax fabric are the nonverbal messages, unique names, and tales associated with specific designs. Though not traditional, African women contributed special meanings to certain prints over the years, turning the textile into a lasting cultural treasure.
One design known as Hibiscus or Topizo is accompanied by the saying "No hibiscus, no wedding." It refers to the tradition in some areas where a bride's dowry must include twelve yards of this popular floral design. Another interesting story comes from the pattern known as Kofi Annan's Brains. It just so happened that the day this print was released, the former Secretary-General of the UN gave one of his last speeches.
Bogolanfini
Unlike wax print's multicultural origin, bogolanfini is traditionally West African and exclusively handmade, resulting in a unique one-of-a-kind product. This Malian fabric is also called African mud cloth in reference to the fermented mud used as a permanent and natural pigment. This amazing technique causes a chemical reaction when laid out to dry in the sun. When the mud is finally washed away, only the vibrant hues remain. Bogolanfini often bears geometric or tribal designs and is an important aspect of Malian cultural identity.
Tendance Wear's Mali Collection is inspired by the handmade mud cloth crafted by local Malian artisans. To hear more about the Mali Collection and new product launches, subscribe to the Tendance Wear newsletter.
Written by
Tiemoko Diarra